Over 40 bottles of Scotch whisky that were found at Blair Castle will go to auction in 2023. The bottles are believed to be the oldest whiskies in the world.
According to experts, the whiskeys were bottled in 1834 making them 200 years old. The spirits were discovered in the 750-year-old Blair  Castle located in Perthshire. The spirits were safely tucked away behind the door of one of the cellars.
Notably, only 24 bottles of the Victorian-era spirits will go on auction.  Whisky experts are fixing an estimated bid value of somewhere in the tens of thousands. However,  the Whisky Auctioneer who will conduct the sales, believes that the best value could be £10,000.
World's Oldest Scotch Whisky Discovery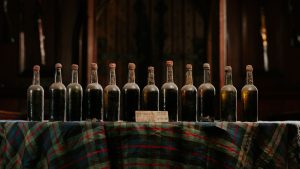 In a report published by Sky News, it is believed that the former Queen Victoria may have been a fan of the expressions. The report indicated that during the queen's visits to the Blair Castle, she became fond of 'Atholl Brose, a mixture of whisky and honey.'
The castle is believed to have been the home of the famous Dukes of Atholl. According to details, the whiskies were discovered by the castle's trustee, Bertie Troughton, during one of her visits to the castle.  She was impressed by the rare collection and informed authorities of her findings.
Although no one is exactly sure of the bottling history of these spirits, there are speculations on the maturing history. Some believe that the whiskies were first blended in 1833 and bottled in about 1841. The collection seems to have been rebottled in 1932.
According to the Whisky Auctioneer, the bottles have been sampled by a local whisky expert and entrusted to the online auction. During the process, in-depth research was conducted on the archives of the castle. The investigations were supervised by the Scottish Universities Environmental Research Centre via carbon dating.
The auction will open in November 2023 at the Whisky Auctioneer website.