Whisky distillery brand Macallan will auction one of its most expensive and oldest whiskies this November 18.  The 97-year whisky is the second of 40 bottles to be auctioned.
Sotheby's has announced that a bottle of single malt whisky from The Macallan distillery will be auctioned next month with an estimated price of £1.2m.
According to the article, The Macallan 1926 has been regarded as one of the most highly prized Scotch whiskies for years. This fact was confirmed after a similar bottle was sold for a record-breaking £1.5m in 2019. This is the first time the same cask has been auctioned since then.
History of The Macallan  1926 Single Malt whisky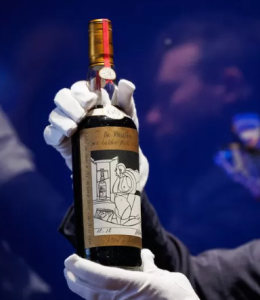 Initially distilled in 1926, it was aged in sherry casks for six decades before being bottled in 1986. Only 40 bottles were made, and they were only available to The Macallan's top clients.
Sotheby's will auction the Macallan Adami 1926 on 18 November for between £750,000 and £1.2 million. Jonny Fowle, global head of spirits at Sotheby's, said:
"The Macallan 1926 is the one whisky that every auctioneer wants to sell and every collector wants to own.
"I am extremely excited to bring a bottle to a Sotheby's auction for the first time since we set the record for this vintage four years ago."
According to Sotheby's, the bottles from the 1926 cask had been labeled differently. A maximum of 14 were decorated with the iconic Fine and Rare labels, including the one that sold for the world record.
Despite no labels, two bottles were released for sale. One was painted by Michael Dillon and sold for more than £1m when sold in 2018.  At the time of sale, it became the most expensive whisky ever sold.
The remaining 12 bottles were decorated by Sir Peter Blake.  A further dozen bottles were designed by Italian painter Valerio Adami.
Although 40 bottles of The Macallan Adami 1926 were produced, it is unclear how many of them still exist. One is believed to have been destroyed during the 2011 earthquake in Japan. However, some believe that the other might have been consumed.