Royal Salute has continued its quest to create rare whisky and incredible designs. This was most recently showcased in its new addition to the Royal Salute's Art of Wonder collection.  The special edition seeks to unite unique art with rare whiskies.
The distillery seeks unique artistry to reflect the essence of each spirit, collaborating with top artists to design exceptional decanters for its whiskies.  These visionaries will create art inspired by the rare blends that make up the collections.  Each carries a special interpretation of nature and its law.
Royal Salute Time Chamber By Conrad Shawcross
Notably, the new spirit is a limited edition 53-year-old blend that leans on the myth of Time and its values. Royal Salute selected the British artist Conrad Shawcross to construe a home for the expression. The designer has built a hand-spun glass disc showcasing the marvels lining the concept of time and luxury whisky.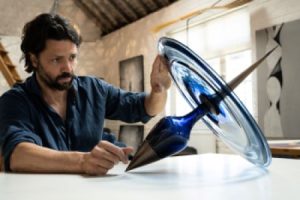 In addition, the Royal Salute Time Chamber is the second release to the Royal Salute's Art of Wonder collection. The limited edition whisky will roll out only 21 bottles, three of which will land at travel retail stores. The whisky will debut in its unique crystal decanter.
Royal Salute Time Chamber at the Frieze Art Fair
The Royal Salute Time Chamber was unveiled at the Frieze Art Fair in London, where the full expression of Shawcross' concept, entitled Beyond The Beginning, was exposed.
Commenting on the collaboration, Shawcross said:
"For this body of work, I was inspired following my visit to Strathisla Distillery in Scotland, where the most precious Royal Salute blends are safeguarded. I was struck by the sheer amount of time contained in the age statement of this bespoke blend and wanted to capture this in multiple elements of the art piece. The disc reflects the endless star systems in the night sky, while the spindle and decanter form a sort of spike, like an arrow through a target which represents a vector of time, implying strong directionality."