Single malt Scotch whisky distillery Talisker expanded its special wild whisky-making series with the addition of 45-year-old whisky.  the Isle of Skye-based distillery produced a unique expression finished in ice-fractured oak.
Notably, the scotch whisky giant is also making history with the release of the Talisker Glacial Edge 45-Year-Old. This is the first production of a 45-year-old single malt Scotch whisky by Talisker.
The Talisker Glacial Edge Whisky Journey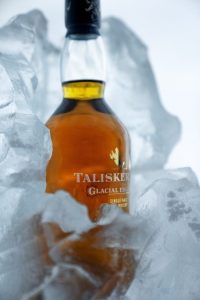 With production starting in Scotland's Isle of Skye, the 45-Year-Old spirit has roamed further than most humans ever will. About a dozen of the Talisker distillery charred American Oak casks traveled to Canada's ice fields and glacial snows. The casks were then specially adjusted just enough to expose the content to the freezing frost of the wild Arctic climate.
Here the whisky-making process completed its 96 hours (4 days) of wildlife below sub-zero temperatures and sizzling winds.
With the extreme cold at its peak, the wood fractured, increasing the surface area of the casks, and allowing the whisky to be transported deep into the barrels to achieve spicier and sweeter flavors. Yet the journey was no coincidence.
The Talisker Glacial Edge Team
According to Talisker Distillery, wild whisky-making requires both precision and expertise. With Talisker's partner, Parley For the Oceans, a special team directed the journey to the ice fields. It was led by glacier scientist Dr. Alison Criscitiello, Parley ambassadors Greg Long, and Taylor Godber.
For the third year, Talisker and Parley have partnered to raise awareness of the importance of marine ecosystems and support their preservation around the world. Talisker Glacial Edge 45-Year-Old will donate some of its profits to support these efforts.
Talisker Glacial Edge 45-Year-Old Single Malt Scotch Whisky is available to purchase globally from selected retailers and at Talisker Distillery Online store.  The expression will also be available in the UK, in select Asian markets including China,  and Taiwan.