Single Malt Scotch Whisky distillery Bunnahabhain has partnered with the Whiskey Exchange. The deal will launch a 32 year old single malt drink.
The latest expression was matured in a single oloroso sherry butt for more than three decades. A total of 537 bottles were extracted and will become available in The Whisky Exchange store. The listed price at the writing of this article is £2,000 (US$2,505).
According to details on the distillery's website,  this is the oldest spirit in the brand's portfolio. With a 54.8% ABV, Bunnahabhain 1990 has layers of sticky caramel and sweet spice thanks to its 32-year aging process, which 'complements without overpowering' the distillery's character. It is said to offer a 'rich backdrop of coffee, well-worn leather, and dried fruit', with flavors of incense spice and dried fruits soaked in rum, with lingering rancio notes
Bunnahabhain Islay Single Malt Scotch Whisky
A year ago, the remote Islay distillery released its second 12-year-old whisky.  Recognized by its unpeated malts, the drink is inspired by its Warehouse 9 cask collection.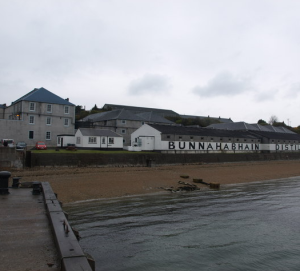 Bunnahabhain Distillery was founded in 1881 near Port Askaig on Islay. The village of Bunnahabhain was founded to house its workers. The company is directly owned by Burn Stewart's South African parent company, Distell.
Originally supplied by ship, the company built a road to the distillery in 1960. The distillery closed in 1981 but reopened in 1984 under the Burn Stewart Group. However, it was merged with Distell in 2014. The distillery is now one of nine active distilleries on the island.
The Whisky Exchange was founded by brothers Sukhinder Singh and Rajbir Singh, who are constructing a distillery on Islay with the proceeds of the acquisition. In 2021, Pernod Ricard acquired the single malt Scotch whisky store for an undisclosed sum.
Pernod Ricard is one of the largest distributors in the world. It has won many trophies and remains in the top three largest beverage companies in the world.