India's Piccadily Distillery's Indri was crowned the best whisky in the world at the Whiskies of the World Award.  The Indri Diwali Collector's Edition 2023 has been awarded the Best in Show, Double Gold.
Piccadily Distillery has clinched another important award among alcoholic beverages. The Indian whisky maker received one of the most coveted premiums in the world.  At the Whiskies of the World Awards 2023 held in San Francisco on September 22, Indri won the top award.
According to the association, hundreds of whiskies worldwide compete for the best tasting, design, and other titles. Top tasters do the blind tasting and a winner is selected for each category. This is followed by a final selection of the best of the best category winners.
The special edition whisky was selected as the best of the best whiskies. The award shows important growth in Indian single malt whisky production quality. A signal that has come on par and is capable of establishing standards
Indri Single Malt Whisky Production
In addition, Indri Diwali Collector's Edition 2023, is a peat base Indian single malt made from barley and distilled in homemade copper stills.  The aging process was in PX Sherry casks along the subtropical coast of North India. The expression emits subtle smoke, dried fruits, toasted nuts. aroma of spice, oak, and chocolate myriads.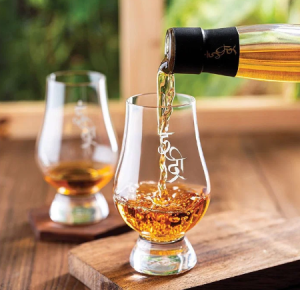 With continuous growth in the Indian whisky market, both consumers and producers have been adjusting their outlook. On one hand, whisky enthusiasts are cultivating a more refined and luxurious taste. This includes more expensive spirits and whiskeys of longer aging.
At the same time, whisky producers have been perfecting their distilling processes while finding unique flavors. This process has led to a better definition of an Indian single malt. This involves some risks and bravery from distilleries. Even as they move away from Scottish standards, they aim to strike a balance that meets international requirements.
"We are doing new things – discovering new markets, new ways to do things," Founder Siddharth Sharma said. "We have people who are willing to learn, and those who teach us as well sometimes. It's a learning curve.